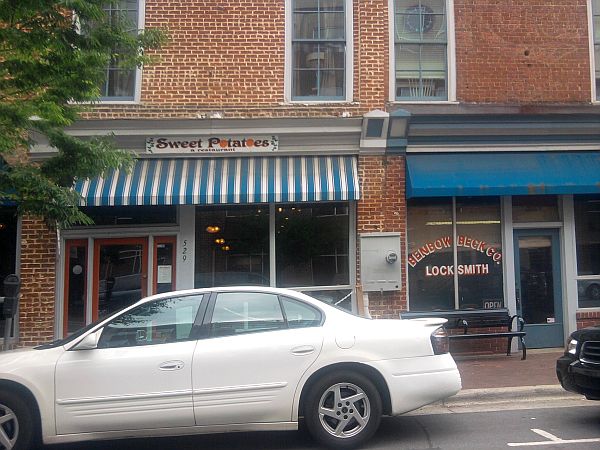 Located at 529 N. Trade Street in Winston-Salem's Downtown Arts District, Sweet Potatoes offers Southern-inspired cuisine for lunch and dinner. There is a full bar, daily specials, and a Sunday brunch.
In homestyle Southern cuisine, execution is everything. Those who grew up with a grandparent's recipes will have a strong basis of comparison. Those who didn't may need a considerable amount of pull to be converted. Thankfully, Sweet Potatoes has the chops (figuratively and literally – drunken pork chops can be found on the dinner menu) to please both contingents.
The restaurant's Trade Street home isn't very big, but what it lacks in space, it makes up for in style. Vibrant green trim and original artwork (one piece of which, admittedly, was a bit off-putting) trim the walls and comfortable jazz plays steadily in the background. Even as Sweet Potatoes fills up, it maintains a comfortable ambiance.
The menu also offers plenty of enticement. Dinner entrees include such attention-getters as a bacon-wrapped whole trout stuffed with sweet potato cornbread and crabmeat, but even the more limited lunch menu has its standouts. For our first visit, my companion and I sampled a fried green tomato and okra basket, a three-cheese macaroni and country ham soufflé, a blackened salmon Nicoise salad, and, of course, a sweet potato. The tomatoes and okra were well-breaded and held their crunch, the soufflé had both sharp and mellow notes, and the sweet potato, topped with butter and brown sugar (though additional options abound for an upcharge) was appropriately sweet. My companion's salad had a tasty tang, but the fish and potatoes were dry – watch for potential inconsistencies.
During our visit, our server was helpful and showed good knowledge of the menu. Both pricing and wait times for the food were reasonable given the location. Salads and sandwiches (with one side) fall in the $7 to $10 range, and portions are ample.
If you've had good Southern before, Sweet Potatoes may not be a revelation. But assuming you can get a table, it is very likely to satisfy.
8.5/10