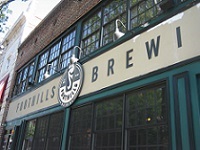 Located at 638 West Fourth Street in downtown Winston-Salem, Foothills Brewing serves craft beers and brewpub fare (apps, soups, salads, sandwiches, and entrees). There are daily specials and specialty beers rotate seasonally. Catering, party hosting, and outdoor seating are available. Foothills also hosts live music and entertainment.
After sampling their wares at a local event a little while back, Foothills became a must-see for our next visit to Winston. The in-person experience did not disappoint. The spacious pub is adorned with brick and wood for a classic look, and there are different areas (dining room, bar, and patio) to accommodate different seating preferences. The real draw here is the selection. From the dozen-plus locally brewed beers to the unexpectedly versatile (Vegetarian? At a brewpub?) menu, there is quite a bit to like beyond the anticipated wings and burgers.
For our first visit, we started with Ale-Battered Shrooms. They were batter-heavy – which was not a problem, the batter was good – and came with both a tasty homemade ranch and a mild horseradish sauce. There were quite a few to the plate, which helped justify the $6.99 pricetag. I then followed this with the Brewhouse Cuban. The juicy, beer-braised pulled pork gave the sandwich a flavor unlike any other Cuban I've ever encountered, and it – along with the mustard (a combination of three different types) – made for a delectable bite. The fries that accompanied it were nice and crisp though in the future, I'll ask for traditional ketchup. The house-made ale-infused variety was oddly sweet. My companion, who opted to go lighter with a Greek Vegetable Pita, seemed satisfied with both the fresh vegetables and the warm, fluffy bread. Her side, a cucumber-tomato-feta salad, was similarly successful.
Both sandwiches were $9.99 apiece with a side included (premium sides, such as homemade chips, invite an upcharge), way north of being a bargain, but not high enough to merit outrage. Service was a just bit on the slow side though our server was helpful in making recommendations, steering my companion toward a coffee porter that was clean, bold, and free from bitterness.
On a busy Friday or Saturday night, Foothills Brewery may tell quite a different story, but on a Monday afternoon, it met and surpassed all expectations. And while it may not impress well-traveled pubsters, it safely ranks among the best breweries the Triad has to offer.
8.5/10