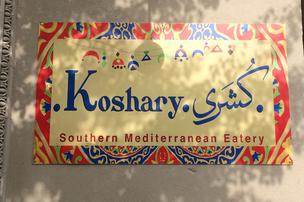 Located at 200 South Elm Street in Downtown Greensboro, Koshary offers Egyptian and Mediterranean cuisine for lunch and dinner Monday through Saturday. There is no alcohol, but limited outdoor seating and catering are available.
Elm Street is practically Restaurant Row, but despite the competition, Koshary manages to shine. A versatile menu with expertly prepared and seasoned offerings combine with a pleasant ambiance and hospitable service to make for an all-around winning experience.
Named for a somewhat eclectic Egyptian dish, Koshary appropriately incorporates some diverse influences. You'll find the expected shawerma and kabobs here, but you can also get a gyro, burger, or rib-eye sandwich. For our initial visit, my companion and I split a mazza sampler and a full-size order of koshary with lamb. The sampler included hummus babaganoush, pickled vegetables, and eggplant ratatouille. All of the dips were tasty (though the hummus was a bit oily), and the accompanying pita was fresh and hot. The koshary (a multi-layered affair consisting of macaroni, rice, and lentils with tomato sauce and fried onions) had great tomato flavor, and the onions provided an unexpected but welcome crunch. The heavily herbed lamb was cooked to perfection: a still-juicy medium. Even a complimentary sample of hibiscus tea was cool and refreshing.
Koshary isn't large, but it feels more spacious than the number of tables indicates. Like many Egyptian restaurants, it is adorned with colorful tapestries and decorative plates. Cliché or not, it makes for classy and comfortable surroundings.
Also like many Egyptian restaurants, Koshary can be pricy. Our appetizer sampler clocked in at $10, and the koshary was $14 ($9 without meat, $6 for a half-size portion). Come for dinner (ours was a lunch visit) and many dishes are a dollar more. This is hardly a shocker given the downtown location and the quality of the food, but some of the simpler fare (like a gyro or kebab) can be found for less elsewhere.
There are only a few minor annoyances that separate Koshary from excellence. For starters, the restrooms are not conveniently accessible: you have to venture into a building and down a hall to find them. Also, should you check in on Yelp during your visit, the Yelp app will provide a coupon that the restaurant itself will not recognize. Lastly, our server, though quite genial, was on his first day on the job and had to defer our questions to a colleague. Thankfully, responses still came quickly.
All told, Koshary offers great food made by people who seem to know – and care about – what they are doing, and that's more that can be said for many businesses these days.
8.25/10